Authors: Annika Ballin | Maria Kaminski
Vertical farming at ceramics institute
The #diensttalk with Nico Domurath: In the #diensttalk, employees give a little insight behind the scenes of Fraunhofer IKTS and reveal what drives them in their research.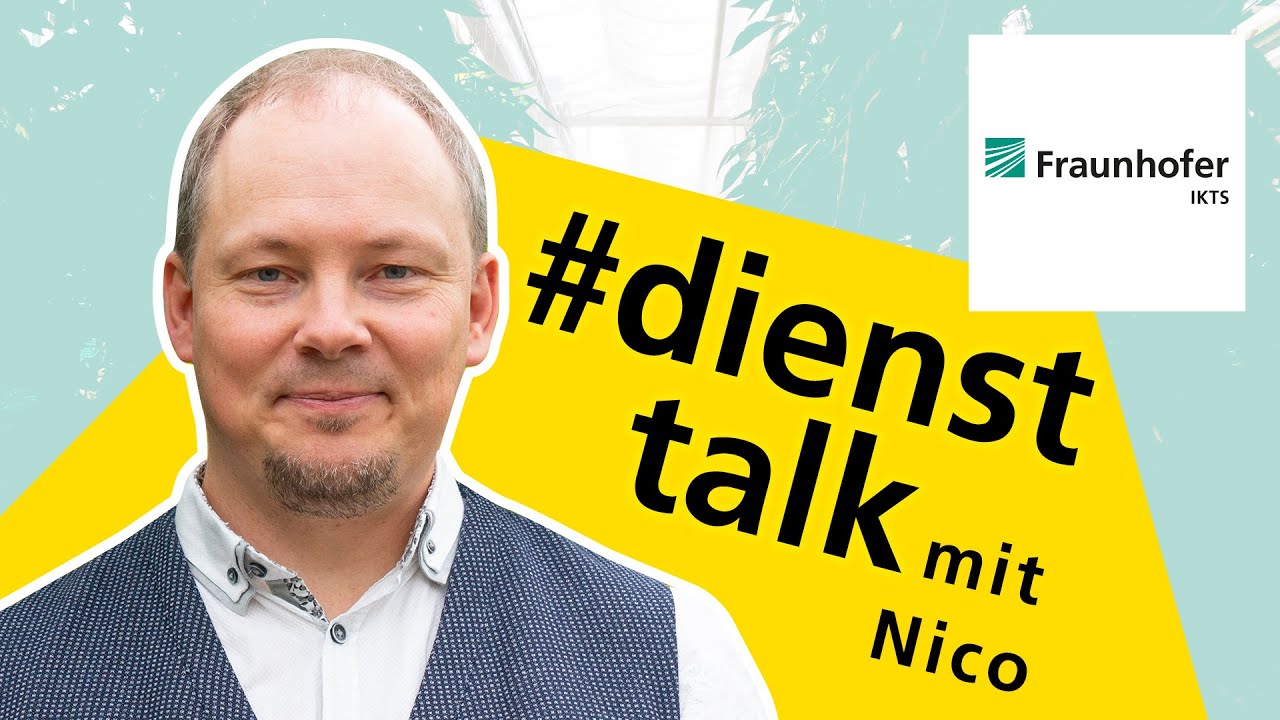 Pink light shines in the technical center of Fraunhofer IKTS in Dresden. Where otherwise plants for water filtration, fuel cells or 3D printing machines are located, small plants have recently started to grow on several floors. "With our vertical farming test stand, we are testing how we can use ceramic technologies to make plant cultivation – especially in controlled cultivation systems such as greenhouses – more sustainable and resource-efficient", explains Nico Domurath, plant cultivation expert at Fraunhofer IKTS. "We want to think holistically about the three major issues of food, water and energy and leverage synergies, close loops and make optimal use of residual materials by intelligently coupling processes", Domurath continues. Why is this important?
Today, there are 7.9 billion people on earth; in 2050, there will be 9.7 billion.
The pressure on agriculture is increasing: According to United Nations forecasts, about 2 billion people more than today will need to be supplied with healthy food (and renewable raw materials) in 2050. At the same time, more and more fertile soil is lost through soil erosion and sealing. The situation is exacerbated by climate change: heat, drought and heavy rainfall events are reducing agricultural yields worldwide. Agriculture is now one of the biggest consumers of water. In order to limit climate change, comprehensive concepts are also needed for the climate-neutral restructuring of industry and energy supply.
Another problem is that more and more people are moving to cities and need to be supplied with food there – far from agricultural areas. Long transport routes from the field to the consumer have their price. They also degrade the environmental balance of the products and, on top of that, are nutritionally unfavorable. Fresh leafy vegetables, fruit and herbs lose a large proportion of their valuable vitamins and minerals within just one day of transport. For fresh fruits and vegetables to survive the long journey, they have to be harvested unripe and cooled or artificially post-ripened requiring a lot of energy. In some regions, this makes good fresh food virtually unaffordable for poorer sections of the population. Malnutrition is the result – even in industrialized nations (keyword: hidden hunger).
Controlled Environment Agriculture
To reliably supply the world with safe, high-quality food, research is being conducted worldwide on novel cultivation methods. In addition to breeding adapted varieties, the main focus is on technologies that help save water and energy and use biogenic residues as resources. In the technology-based approach of "Controlled Environment Agriculture (CEA)", the plants grow in closed cultivation structures, such as greenhouses or buildings, under controlled growth conditions.
Vertical farming – opportunities and limitations
Vertical farming offers a particularly space-saving solution. Here, plants are grown on top of each other in several tiers. The possibilities range from simple foil tunnels to closed, soilless indoor farming with artificial lighting. In such a closed system, up to 95 % of water consumption can be saved compared to field cultivation. The use of pesticides can also be significantly reduced. The approach promises year-round high yields on a small area, can be modularized, and can be used regardless of climate and soil quality.
However, the world will not be satiated by greenhouse food alone in the future, as the cultivation of the most important staple foods – cereals, rice, corn, potatoes – depends on large-scale field cultivation. However, fast-growing, compact crops, such as lettuce, strawberries, herbs, mushrooms or even medicinal plants, could prospectively be grown in vertical farms exactly where they are in demand – in the city or even directly in the supermarket. It does not get any fresher than this! Even very dry regions, where farming is already difficult today, could benefit from closed cultivation systems. So far, vertical farming is only economically viable in a few niches. For one thing, the energy required for lighting is very high. For another, highly complex monitoring and control systems are needed to ensure that the plants are optimally supplied at all times. Another problem is that qualified specialists who are equally well versed in plant cultivation, and in engineering and IT are scarce.
Ceramic technologies for agriculture
Nico Domurath is one such expert. The horticultural engineer has worked in agriculture and taught at universities. He has been part of the IKTS team for a year and a half. "Today, you cannot look at energy, water and agricultural technologies in isolation from each other", the agricultural expert is certain. "We are therefore working on cross-domain solutions. Fraunhofer IKTS has a lot to offer agriculture. We want to demonstrate this with our Vertical Farming test stand on a small scale and soon on a larger scale together with partners", Domurath says. And this is what a greenhouse with IKTS know-how could look like:
Monitoring and control
In the field of optoceramics, Fraunhofer IKTS is researching energy-saving, long-life LEDs that emit precisely the light frequencies that plants need for photosynthesis. By varying the light intensity and color throughout the day or over the vegetation phases, plant growth can be specifically stimulated. Robust LTCC sensors regularly measure temperature, humidity and the CO2 content of the air. Miniaturized thick-film sensors based on ceramic pastes are used in water analysis for heavy metal monitoring and pH determination. Laser speckle photometry can be used to monitor the growth of cell cultures in the bioreactor in-line in cultivation processes. Optical methods monitor nutrient supply in leaves using pattern recognition. This data is assessed by AI-based software that automatically controls air, water and nutrient circulation.
Water and raw material circulation
Mining water can be efficiently treated or seawater desalinated to provide water. Unused water and excess nutrient solutions are filtered and sanitized in a decentralized and energy-efficient manner using ceramic membrane processes, thus recirculating them. This saves water and nutrients, but also effectively prevents substance inputs into the environment. Various filtration and treatment technologies are available at IKTS for this purpose. Pesticide residues and other trace substances in the nanometer range can also be completely removed from process water and wastewater.
Excess biomass is degraded to biogas. For this purpose, IKTS has developed technologies for efficient biogas production from biogenic residues and for biogas upgrading. Essential nutrients, such as phosphorus and nitrogen, can be recovered from the fermentation residues and further processed into high-quality fertilizer products (abonocare® projects). Research is also being conducted into technologies for CO2-neutral fertilizer production from industrial water (RODOSAN® process) or from air using green hydrogen (ammonia synthesis). Even the fibrous fermentation residue can be processed and put to valuable use. This can be used, for example, to produce compostable plant pots and mulch films. The aim is to achieve optimum cascading use of raw materials.
Electricity and heat
For flexible power and heat supply, biogas can be converted into electricity in fuel cells or in combined heat and power plants. If more energy is temporarily generated than is needed, it can be stored in environmentally friendly stationary sodium nickel chloride batteries (Na/NiCl2) or in the form of chemical energy carriers. Additional energy required ideally comes from renewable sources.
Greenhouse as CO2 sink
Since the plants metabolize the CO2 from the greenhouse air, new CO2 must be continuously added to the air. This CO2 can be captured from biogas using gas separation membranes, for example. Unavoidable CO2 from industrial processes or stored CO2 could also be used. The greenhouse would then become a CO2 sink.
The vision: IKTS as a sustainability institute
So far, all these research activities of Fraunhofer IKTS are still an insider tip in the agricultural industry. This is soon to change. To this end, Nico Domurath is in constant exchange with farmers, breeders, suppliers and processors, engineers, plant manufacturers and IT. He wants to mediate between practice and research and demonstrate the potential of ceramic technologies for agriculture. "My job is to connect the technical with the biological possibilities in the best possible way", explains the passionate networker.
His vision for the future? Fraunhofer IKTS offers convincing solutions for the UN Sustainable Development Goals with its technologies and, together with partners from industry and agriculture, can transfer them all the way into practice. "As an institute for applied research, we develop technology solutions and test them up to pilot-plant scale. From there, it takes another three to five years for upscaling by our industry partners before a technology is ready-to-market and can be commercialized. I wish we could make a powerful contribution to a resource-efficient and climate-neutral future with our research."