Authors: Annika Ballin, Maria Kaminski
#diensttalk with Dr. Sindy Mosch aubout inks and pastes – in search of the optimum formulation
The #diensttalk with Dr. Sindy Mosch: In the #diensttalk, employees give a little insight behind the scenes of Fraunhofer IKTS and reveal what drives them in their research.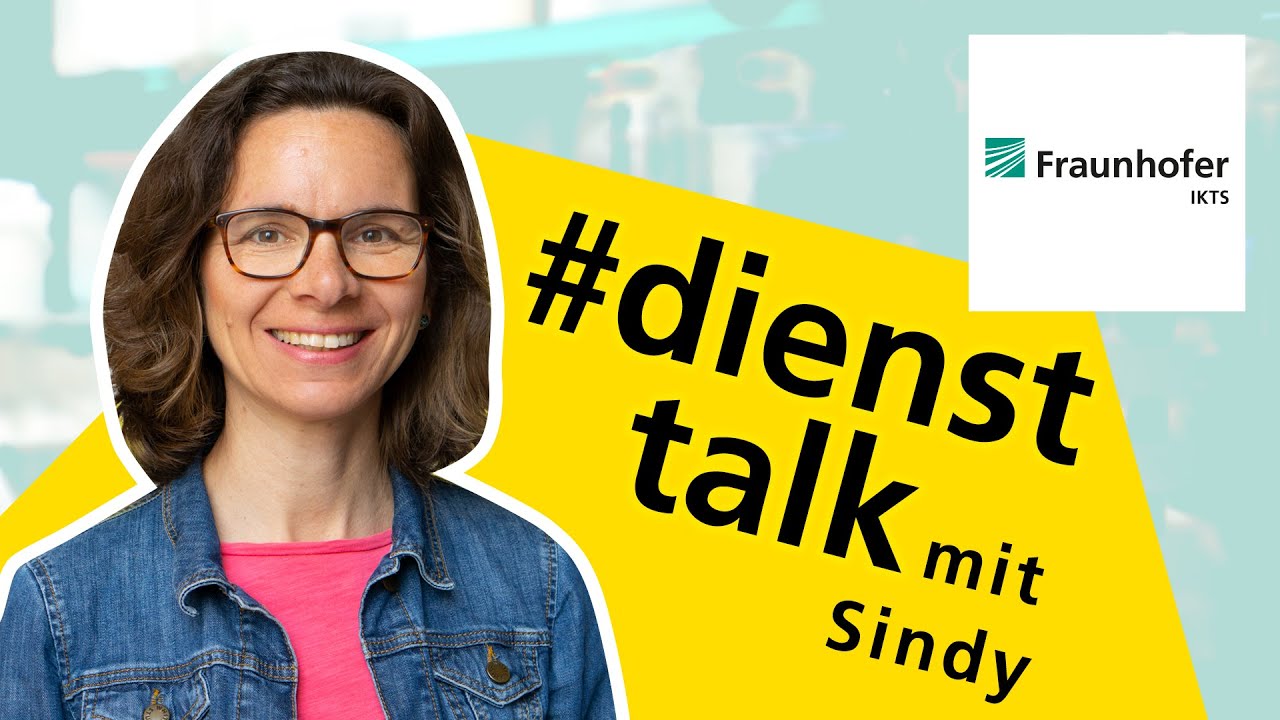 Whether it is precious metal ink for a drug test kit, ceramic screen-printing paste for high-tech sensors or glass solder paste for the airtight joining of ceramic fuel cells – Dr. Sindy Mosch and her team develop the right functional layer for every application. "A versatile and exciting job", says the materials scientist.

Dr. Sindy Mosch is a research associate in the "Materials for Printed Systems" group. In 2004, she started as a PhD student at Fraunhofer IKTS. Since then, she has been analyzing, developing and optimizing so-called functional suspensions. These are low-viscosity, i.e. water-like inks and high-viscosity, toothpaste-like pastes. These can be printed to form functional layers with special properties. For example, electrically conductive or insulating, sensory or protective and joining layers can be produced.
Printed electronics
The areas of application for these printed functional layers are varied, because today not only ceramic plates but also 3D bodies, flexible polymer tapes, thin glasses, textiles and even paper can be printed – with increasingly high-resolution structures.
In current projects, Sindy Mosch and her team are working, for example, on functional suspensions for the production of tiny chemical and physical sensors, such as for gas detection (e.g. O2, CO2) or for measuring temperature. Other key areas are pastes for miniaturized heaters and electrodes for gas sensors and high-temperature electrolysis and fuel cells. In addition, there are electrically conductive pastes as well as solder pastes for power electronics and special glass joining pastes. In the medical technology project Heartbeat, the team is printing electrodes for a drug test kit using gold inks containing nanoparticles. Heart muscle cells are cultivated on these gold electrodes, and their cell vitality can be examined in relation to drugs.


Not all suspensions are the same
The functional layers are as individual as the applications. Together with her colleagues, Sindy Mosch develops the optimum suspension for each application. This is a complex and sometimes lengthy process.
"We first select the base materials, including suitable additives and binders, and set the properties required for the application – conductivity, for example. We then adapt the inks and pastes to both the substrate and the corresponding printing process, such as inkjet and aerosol printing," explains Sindy. Parameters that have to be precisely adjusted include surface tension, solids content, particle size and viscosity. Here, the researchers benefit from IKTS' decades of experience in the field of powder preparation and suspension development. Each development is accompanied by a comprehensive characterization of the powders, suspensions and functional layers.


Unlocking new things with technologies
According to Sindy Mosch, the most exciting thing about her job is that every research assignment requires a very individual approach. Not only the customers are very different, but also the materials, applications and technologies. Some projects even make it possible to look far beyond the ceramic horizon and open up something new. "With our know-how and the technologies and characterization capabilities available at IKTS, we can optimize any paste or ink," Sindy explains.
"In addition to formulations and the optimization of materials and layers, my job also includes characterizing the suspensions, the layers printed from them and the substrate materials used. We use a wide variety of measurement methods for this," says Sindy.
From lab job to desk job
During her doctorate, she was mostly in the lab herself. Today, she spends up to 95 % of her working time at her desk. She is usually only in the lab to discuss the next tasks with her technicians and lab assistants. "When I do characterize my own samples, I prefer to do it early in the morning at 6 a.m.," she says.
Her field of work has become broader and now includes, in addition to pure project work, writing project proposals and scientific articles, customer acquisition and instructing new colleagues on special measuring equipment. Training apprentices and supervising student projects are also important to her.
The practical laboratory experience she gained in her first years at IKTS is an incredibly good basis for her job, explains Sindy. It gives her a good understanding of how a technology works, how long work takes, and where practical challenges lie.


Work-life balance
Today, project data is mostly stored digitally so that it can also be evaluated from the home office. Many discussions and project meetings are held digitally and business trips have also become less frequent. "This makes family life easier", says Sindy, adding: "also because we support each other very well in the team if someone is absent due to illness or looking after the children."
Project work is teamwork
"As a scientist, I can't get any further without a smart team that thinks along with me when it comes to producing and characterizing the samples I need," Dr. Sindy Mosch is convinced. "We all work together as equals. Everyone contributes their wealth of experience. Results are always a team effort," she adds.
Her team brings together experienced lab technicians, engineers and scientists. They are joined by trainees, students, doctoral candidates and school interns. In recent years, the team has also become even more "colorful". Several colleagues come from Eastern Europe, one from Mexico. "This diversity is very enriching", says Sindy. For the future, she would like to see even more diversity and internationality – and more women opting for a job in research.
Good career prospects in research
Fraunhofer IKTS is growing and good people are constantly being sought. So, it is worth taking a look at the institute's current job openings. However, unsolicited applications are also welcome. Dr. Sindy Mosch advises students: "Take the chance and do internships. This is the best way to find out whether a job in science is something for you. In addition, you will make personal contacts."
"If you like baking and know how different milling qualities of flour behave in dough, you're not entirely wrong here," she says with a wink. Furthermore, curiosity, perseverance, a love of reading and a spirit of research, but also a sense of practical ideas are needed for a job at Fraunhofer IKTS. "We do research that is close to industry, so we are looking for practical, implementable solutions," she says.
---

Current research projects
Digiman – Platinum inks for printing miniature heaters on thin ceramic substrates. Sensor platforms for agro-industrial applications by providing a digital manufacturing process chain based on printing technologies and inks made from nanomaterials.
Heartbeat – Printed platform for multifactorial functionality monitoring of stem cell-based cardiac muscle models for drug development.
SOC-Degradation – Experimental and scientific basis for predictive understanding of degradation phenomena in SOC stacks and systems.
Lead project H2Giga – Opportunities for mass production of water electrolyzers to make green hydrogen production competitive and minimize production errors.
HeNa – Development of new cathode materials and suitable interlayers for solid-state sodium batteries.
HaNa – Development of an ink-jet printable silicon ink for the cost-efficient production of electronic components, such as solar cells, semiconductor and lithium-ion batteries.
InCuSens – Innovative sensor solution for climate monitoring in CO2 incubators for in vitro cultivation of cell and tissue samples. In the process, development and characterization of potentiometric CO2 sensor elements with high resistance to disinfection cycles for calibration-free long-term operation.
---