Author: Anika Peucker | Translation: Anna Knollmann, Stephanie Anderseck
Hard shell, porous core: personalized, 3D-printed bone implants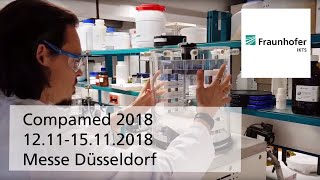 In this German video Dr. Matthias Ahlhelm introduces himself and his research area at Fraunhofer IKTS. Shaping and degradable materials, such as ceramic biomaterials, play a decisive role.
Matthias Ahlhelm gives you a brief insight into how he and his colleagues produce personalized bone implants from biomaterials in a combination of 3D printing and freeze foaming. In this process, the robust ceramic "bone shell" is manufactured using additives. However, the interior consists of a porous, bioactive ceramic foam. The structure therefore corresponds almost exactly to real bone: hard shell with porous core.
This structure and the special multi-material combination also ensure that the ceramic bone implant is fully integrated into the body and can be permeated by the body's own tissue in the long term.
Furthermore, integrated digital workflows are an important key to personalized, 3D-printed bone implants. Such workflows safely transfer the information from standard medical procedures, such as computer tomography, into a "digital twin" of the real bone. The Fraunhofer IKTS therefore supports its industrial and research partners in developing suitable data, material and technology chains for the best possible surgical therapy for the patient.
---
Stay informed: You are welcome to subscribe to our newsletter, read our other blog articles and follow us on LinkedIn, Instagram and YouTube.